Voice-Over IP (VoIP) and Hosted Telephone Systems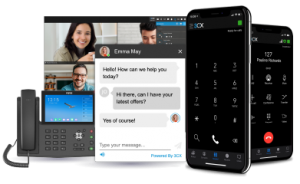 Liberty Technology Solutions is your local business telephone system resource. Whether you are looking for a traditional system, a Voice-Over IP (VoIP) System, or a hosted phone system, Liberty specializes in managing them all so you can focus on your business.
Communicating effectively with your co-workers and customers is crucial to the success of your organization. With a custom-designed telecommunications solution, you can improve employee productivity and customer relations. No longer will you worry about missed opportunities from customers or low productivity levels from your employees with a Liberty-managed phone solution.
Unlike many companies, Liberty provides local, on-site support staff to manage for your business the day-to-day troubleshooting, maintenance, and customization.
The best phone system for your business is one that delivers you the most value, based upon your specific and unique needs. It offers you features and functions that help you save time, build customer relationships, and increase revenue. That's what Liberty does best.